Exhibitions and Events
Andrew Roberts will be taking part in a discussion session at the STANZA poetry festival in St Andrews:
Fri 16 March | 10.00-11.00am | Poetry Breakfast: Watch This Space
Gerry Cambridge, Andrew Michael Roberts, Rozalie Hirs and Helen Ivory discuss the appearance of poetry. The Byre Theatre, Abbey Street – Studio Theatre
The Royal Scottish Academy
The Poetry Beyond Text project exhibition appeared at the Royal Scottish Academy, The Mound, Edinburgh, from 12 November to 18 December 2011. Images courtesy of Mary Modeen.
We are currently discussing a number of potential future exhibitions, including one devoted to the Chinese Whispers works. Please return to this page for details of future installations.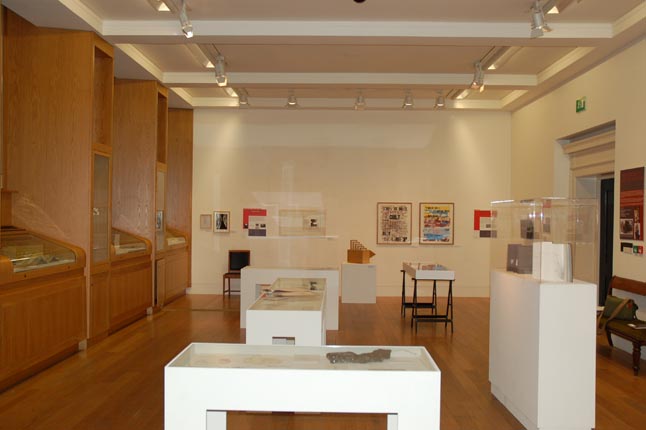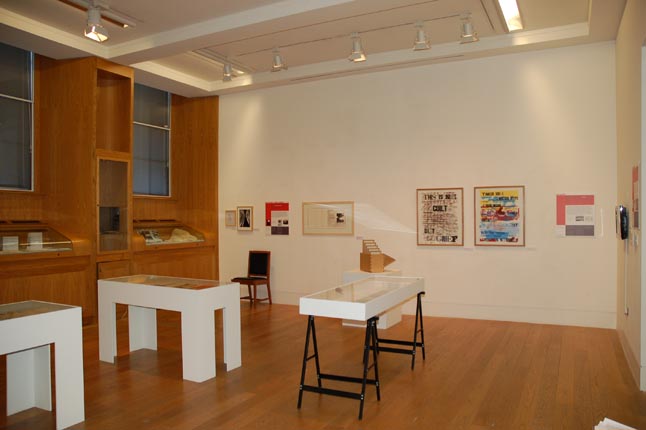 A 360 degree circling shot is available courtesy of go360.
Moray Art Centre
Selections from the Poetry Beyond Text project exhibition were exhibited at the Moray Art Centre, The Park, Findhorn, Moray, IV36 3TA, tel: +44 (0)1309 692426, 9th August - 30 September 2011.
Visual Poetry Workshop / Archive of Reading
On November the 10th, Lisa Otty and poet Rab Smith led a visual poetry workshop as part of the imprint festival in Kilmarnock.
Scottish Poetry Library
The Poetry Beyond Text project exhibition at the Scottish Poetry Library in Edinburgh ran from 14th of May to the 15th of July.
Several events took place in conjunction with the exhibition, including readings, talks and workshops:
DERYN REES-JONES + MARION SMITH: 7PM Wednesday 18.05.11
Deryn Rees-Jones' most recent collection of poems is Falls & Finds (Shoestring, 2008) and Seren has published three collections of her poems, including Quiver (2005). In 2010 she was given a Cholmondeley Award for achievement in poetry. Marion Smith was elected to the Royal Scottish Academy in 1998. Now based in Fife, she has worked at the Scottish Sculpture Workshop, at Glasgow Sculpture Studios and at Glasgow School of Art, and has exhibited in the UK, Scandinavia and Japan. Deryn and Marion discussed their collaboration, Vivam (2011), which took place as part of the Poetry Beyond Text project.
VISUAL POETRY WORKSHOP: 6.30 - 8.30PM Tuesday 24.05.11
Visual poetry is an experimental genre that uses not just words, but also properties such as space, colour, line, and typography to create meaning. Championed by two of Scotland's most celebrated poets, Ian Hamilton Finlay and Edwin Morgan, it challenges us to ask what poetry is and how different styles of textual presentation change our readings. In this hands-on workshop, which draws on the new Archive of Reading housed at the SPL, we explored visual poetry, looking at how individual works are constructed and considering what happens when we read such poems, before having a go at creating our own visual poems.
VISUAL POETRY WORKSHOP: 2-4 PM Friday 03.06.11, Dumfries
as above
JIM CARRUTH, MICHAEL WAIGHT AND MURRAY ROBERTSON: 7PM Wednesday 07.06.11
Jim Carruth's first collection Bovine Pastoral was published in 2004. In 2009 he was awarded a Robert Louis Stevenson Fellowship and won the James McCash poetry competition. A sequence entitled 'Grace Notes 1959' was commissioned by The Glasgow Jazz Festival and launched in June 2010. Jim spoke about two recent collaborations: 'Lot 76' , created with Michael Waight, and 'Three Little Words', created with Murray Robertson. Both collaborations took place as part of the Poetry Beyond Text project.
POETRY WHISPERS: 6PM Wednesday 15.06.11
Poetry Whispers is a creative experiment, run over the last two years, in which local artists and poets have responded to each other's work, creating imaginative reiterations in their own medium. The works that have resulted shed light on the relationship between visual and textual reception and creativity, and form fascinating documents of how ideas, subjects and moods can be interpreted and transmitted. Guests joined us to see and experience these works, and hear the artists and poets discuss the process of working across media.
Other Related Activities
The Poetry Beyond Text project exhibition opened at the Visual Research Centre, Dundee Contemporary Arts, on the 4th of March 2011, and ran until April 1st 2011.
To coincide with this, and to mark the close of the research phase of the project, we held a two-day symposium at the University of Dundee on the 4th and 5th of March. The event featured papers, talks and discussion on the subject of interdisciplinary research, poetics and science.
On Thursday 18 November 2010, Professor Andrew Roberts presented a paper entitled 'Poetry, Experimental Psychology and Close Reading: Reflections from the Poetry Beyond Text Project' at the University of St Andrews, School of Modern Language, Poetry Forum, in collaboration with School of English.
The new Poetry Book Society website has been launched recently, with lots of great resources and links of interest to readers and writers.
Andrew Roberts presented a paper on the Poetry Beyond Text project at the first seminar of the ELMCIP project, held September 20-21, 2010 in Bergen, Norway. Developing a Network-Based Creative Community: Electronic Literature as a Model of Creativity and Innovation in Practice (ELMCIP) is a collaborative research project funded by the Humanities in the European Research Area (HERA) JRP for Creativity and Innovation. The project is led by Scott Rettberg, of the University of Bergen Linguistic, Literary, and Aesthetic department's Digital Culture Group.
The Poetry Beyond Text project was represented by a panel at the COSMOPOETICS: Mediating a New World Poetics conference at Durham University, UK, 8-10 September, 2010. Andrew Roberts, Anna Schaffner, and Lisa Otty took part.
Lisa Otty presented a paper entitled 'On Ambiguity: Modernism, Literature, and Cognition' at the 5th annual conference of the British Society for Literature and Science in Newcastle, 8th-10th April 2010.
Andrew Roberts presented a paper entitled 'Literary Criticism and Experimental Psychology: Reflections from the Poetry Beyond Text project' at Strathclyde University on March 9th 2010.
Kim Knowles gave a paper on 'Word and Image in Early Avant-garde Film' at the University of London on 22nd February 2010.
Martin Fischer presented a paper entitled 'Experimental Studies of Poetry' to the James Joyce Foundation in Zurich on the 15th of December 2009.
Mary Modeen gave a talk entitled 'Vision, Text and Perceptual Interpretation' at the Perception(s) Conference, Institut Superieur des Sciences Humaines, Tunis on December the 6th 2009.
Project Launch Lecture: Citational Poetics in Benjamin's Arcades Project
The lecture was given by Professor Marjorie Perloff, Emeritus Professor of English at Stanford University. The event was held on the 11th of May and co-hosted by the Centre for Modern European Literature in the School of European Culture and Languages, University of Kent. A podcast of the lecture is available below.
A noted literary critic, Perloff has published widely on twentieth-century poetry and poetics, particularly in relation to modernism, postmodernism and the avant-garde. She has written a staggering 13 books, which include: 'Radical Artifice: Writing Poetry in the Age of New Media' (University of Chicago Press, 1994), 'Wittgenstein's Ladder: Poetic Language and the Strangeness of the Ordinary' (University of Chicago Press, 1999), 'The Futurist Movement: Avant-Garde, Avant-Guerre, and the Language of Rupture' (University of Chicago Press, 2003) and 'The Vienna Paradox: A Memoir' (New Directions Publishing Corporation, 2004) and the highly acclaimed and influential '21st Century Modernism: The "New" Poetics' (Wiley-Blackwell, 2002).
Opening Workshop
Held on the 9th of May, the workshop brought the team members of the 'Poetry Beyond Text' project together with a range of experts in the field of digital poetry, aesthetic and cognitive psychology. The team reported on pilot experiments in which recent works by the Scottish poet Jim Carruth were read and the eye-movements of the readers tracked. The wide-ranging discussion opened out numerous avenues of potential enquiry and stimulated discussion about the principle aims and objectives of the project.
Recent Related Articles by Team Members
Andrew Michael Roberts,'Creative Practice and Experimental Method in Electronic Literature and Human Experimental Psychology' (with Lisa Otty, Martin Fischer and Anna Katharina Schaffner). Forthcoming in dichtung-digital, special issue on Communities in Electronic Literature.
http://www.dichtung-digital.org/
Andrew Michael Roberts,'Space and Pattern in Linear and Postlinear Poetry: Empirical and Theoretical Approaches' (with Jane Stabler, Martin H. Fischer and Lisa Otty). Forthcoming in European Journal of English Studies.
Andrew Michael Roberts, 'Why Digital Literature Has Always Been "Beyond the Screen"', in Beyond the Screen: Transformations of Literary Structures, Interfaces and Genres, ed. Jörgen Schäfer and Peter (Transcript, 2010), pp. 153-77.
Fischer, M. H., & Mills, R. A., & Shaki, S. 'How to cook a SNARC: Number placement in text rapidly changes spatial-numerical associations.' Brain and Cognition, 72 (2010): 333-336.
Anna Katharina Schaffner, 'Digital Criticism is Coming of Age: Reading Moving Letters * A Review (Review of: Roberto Simanowski/Jörgen Schäfer/Peter Gendolla [eds.], Reading Moving Letters. Digital Literature in Research and Teaching. A Handbook. Bielefeld: transcript 2010)', in JLTonline (11.01.2011),
online at: http://nbn-resolving.de/urn:nbn:de:0222-001450
The Arts and Humanities Research Council is the funder of 'Poetry Beyond Text', along with many other fascinating 'Beyond Text' projects.