The Archive of Reading
The Archive of Reading is a public resource, making accessible the experimental results gathered during the Poetry Beyond Text Project. It is housed at the Scottish Poetry Library in Edinburgh, and was funded by the Arts and Humanities Research Council. The archive was launched as part of the Poetry Beyond Text exhibition, held at the Scottish Poetry Library between May 14th 2011 and July 17th 2011.
The potential for an Archive of Reading was identified during the experimental phases of the Poetry Beyond Text project. For, while multiple, vast archives of writing exist, including records of 'readings', in the sense of writing that responds to, evaluates, or interprets texts, the act of reading – the cognitive, emotive and physical processes which occur while an individual is engaged with a text – remains largely ephemeral and hard to document. A crucial element of 'Poetry Beyond Text' has been the capture of elements of that process: we have shown that a reading performed (silently or otherwise) by an 'audience member' can be as unique and as interesting as one performed by a poet.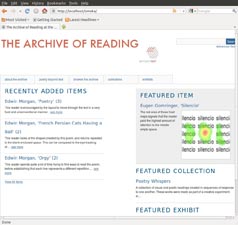 The archive itself, collecting various types of readings recorded in various forms, provides a wealth of examples. It includes heat maps, eye-tracking videos, reported readings, and fixation maps, as well as original artworks and poems created as 'readings' of one another during the Chinese Whispers series.
The Archive of Reading can be accessed during opening hours, via a computer terminal in the main library area of the SPL.